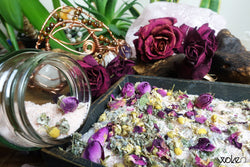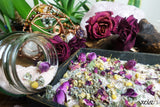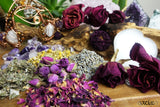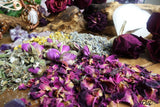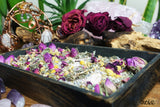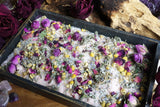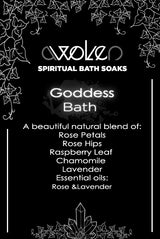 Awoken
Bath Soak: Goddess
Goddess Bath
'awaken the divine feminine'
Set intention around your bath time with this herbal soak blend. We have carefully selected organic, high quality and locally sourced ingredients to make your bath time an experience!
A natural and organic blend of highly aromatic flowers that will leave your bath smelling like an entire bouquet. An indulgent infusion rich in vitamin c and antioxidants to leave your skin and energy glowing.
Great for self love, heart healing, sensuality and making you feel like the Goddess you truly are. 
Herbs: Rose petals, Rose hips, Raspberry leaf, Chamomile, Lavender
Natural Salts: Epsom & Himalayan salt
Essential Oils: Rose & Lavender
Aroma: Floral bouquet
Reiki energy charged: Nothing but positive vibes
Directions: Add a handful to bath water and set your intention. Soak for at least 20 minutes, pamper and enjoy!
Packaging: Recyclable glass bottle. Keep & re-use. 
Weight: 250g
NOTE:
Disclaimer: Consult your physician before using essential oils if you have high blood pressure, are pregnant or have other medical concerns. These products are not intended to diagnose, treat, cure, or prevent any disease.
DOES NOT contain parabens, preservatives, petroleum, mineral oil or artificial colour/scent/oils. No animal testing, not ever.