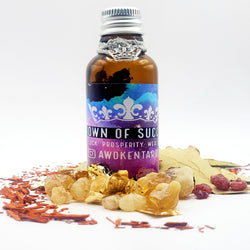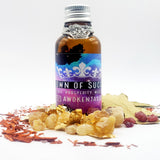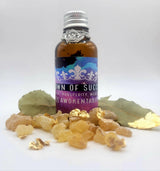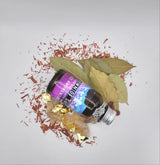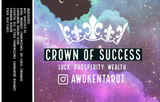 Awoken
Crown of Success Intention Oil
Crown of Success
Crown of Success oil is a rich and potent blend of herbs with spiritual properties used to help achieve success in your endeavours. Under the direction of the divine to select specific high quality ingredients, Crown of Success is prayed over, activated and empowered by spirit.
Crown of Success promotes your personal power and creates favourable outcomes whilst simultaneously removing negative influences.

Uses: success in business, education, goals, employment, finances and as a general all purpose oil for getting the job done
Free delivery to anywhere in the UK
How to use:

Anoint your altar or sacred space
Use to work intentions by anointing the body and/or hair
Apply to candles
Add a drop to petition papers, letters
Anoint charms, amulets, jewellery or other spiritual tools
As an ingredient in spiritual baths or washes
Apply to mojo bags
Crown of Success ritual ideas:
Apply to a petition paper or manifestation letter that you will keep or burn
Apply to a bay leaf with your written intention on it before burning
Anoint envelops of important letters
Wear before a job interview, exam or event 
Combine with Psalm 23 when anointing for amplification
Free delivery to anywhere in the UK
Click here for Delivery, Returns & Exchange info 
Packaging: Recyclable glass bottle. Keep & re-use. 
Size: 30ml
No artificial ingredients 
Shelf life up to 1 year
Vegan friendly
Not for consumption
Sold as curio only
Please do a skin patch test for sensitivity or allergic reactions to herbs,
roots, or essential oils before anointing your body with any product
Seek medical advice if pregnant