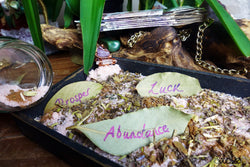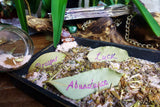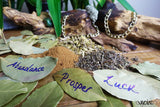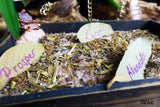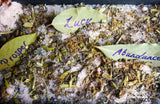 Awoken
Bath Soak: Prosperity
Prosperity
'abundance is my birth right'
Set intention around your bath time with this herbal soak blend. We have carefully selected organic, high quality and locally sourced ingredients to make your bath time an experience!
A natural and organic blend of prosperity enhancing herbs known holistically for removing blockages in success and promoting attraction. Focus your intentions, repeat affirmations and create some magic with this prosperity frequency infusion. 
Great for manifestation, drawing abundance, intention setting and attraction
Herbs: Holy Basil, Bay leaves, Cinnamon, Bayberry Bark
Natural Salts: Epsom & Himalayan salt
Essential Oils: Bergamot & Lemongrass
Aroma: Zesty & refreshing
Reiki energy charged: Nothing but positive vibes
Directions: Add a handful to bath water and set your intention. Soak for at least 20 minutes, manifest and enjoy!
Packaging: Recyclable glass bottle. Keep & re-use. 
Weight: 250g
NOTE:
Disclaimer: Consult your physician before using essential oils if you have high blood pressure, are pregnant or have other medical concerns. These products are not intended to diagnose, treat, cure, or prevent any disease.
DOES NOT contain parabens, preservatives, petroleum, mineral oil or artificial colour/scent/oils. No animal testing, not ever.